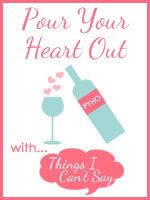 I've never done this before.
Diana
is opening my blogging world up. I always see her doing it. So today I'm linking up with
Shell
. Diana talked about needing friends that are always there and it put whatever I was going to blog about somewhere that I've forgotten. It made me go, ya know what?! I have family that does the same darn thing!
So it's no surprise that my hubs family and I don't get along. I had a huge long post written about all the horrific stuff they done to me. The lies, everything. And decided it's not really that, it's the comments. The one "I don't think we can be close because I'm pregnant and you're not", the "You think that having a baby will fix problems in your marriage, it won't." These are the comments that make me want to puke. Make me honestly, want to effing punch someone.
I needed friends when we weren't getting pregnant, and most of our problems revolved around our infertility problems, yes I'll admit it, I let it hurt our marriage. I was so alone though. I felt and still even feel out of place when it comes to blogging, even though I tried to blog to get something. I felt and still feel like I fit in somewhere when I read blogs. I feel like I'm let in on your lives as a friend. I don't have anyone that I can really truly call a friend, outside of family. The friends I started out with from childhood all live in California and I moved to Utah at 16, and only did 1 year of highschool before I graduated. I don't have anyone I can just call up and be like Hey, come over. Hey let's go out. Hey, I'm having a break down. All I've wanted are friends, even if they are from my in-laws. People I could depend on, and all these people have done is criticize and say hurtful things about me. So what if I don't like my husband telling you how much he makes. He makes enough money to pay our mortgage and all the other stuff, so I can be a SAHM. That's all you need to know. Some months we do great, others not so great. You don't need a number. So what if I don't tell you we're trying to get pregnant, or when we plan on having a second one, because I'm scared that it won't happen anytime soon, though we'll probably start next year. So what if I don't tell you guys every detail of everything, or want people in the delivery room. My husband is my secret holder, the one who has seen me at both my best and my worst, I don't need the extra questions the extra worry if you aren't going to ask me questions, call me, or tell me your secrets. It's not a one way street.
I could go on and on about all their drama and such, and I have. I'm working on it though. All I know is, they all live withing 5-10 mins from me, (only one is about 10) the other 3 are very close, and I see them ummm, maybe 5 or 6 times a year. They've been to my house maybe 10 times, and we've lived here for a little over 2 years. No one just calls to do stuff. Heck they can call to see if I want to go grocery shopping with them or call to see if I can talk to them while they clean. My mom, my sisters, brothers and I do that all the time. I just try and try and they say it's me, so I change and still nothing.
I know this post is all over the place. I just can't seem to pour this out enough. My heart just hurts. I have a feeling I'll most definitely be pouring my heart out more often.