My grandma hates me.
She really does. See the thing is,
she's crazy.
Okay, so I guess I can't just say that and not tell you a little history.
It all started in February, or so I'm told. See a lot of this is just stuff I've heard. Apparently at my
baby shower
, when asked who everyone was, I just told whoever it was "oh that's
just
my mom's family" after saying "Oh that's my Aunt Carole". Well my Aunt Carole isn't really my aunt, she's just a friend of the family that I've known forever and my mom made me call her Aunt as a sign of respect when I was little.
Apparently all that hurt my Grandma's feelings. See the thing is, I NEVER said that. I said "that's my mom's family ", when asked which side was they were. I know I never said that because, there are some names I had a hard time pronouncing and a few that I actually forgot, it was very uncomfortable. Well since then my Grandma has refused to talk and look at me.
She came to my
sister's baby shower
, and that's the first time she saw A, who was 5 months. She didn't talk to me there, and continued to tell people I was an awful person. Well fast forward another 4 months, to this Sunday. We went to make biscochitos with my mom's family. My Aunt P called to make sure I came because she didn't care what my Grandma said she wanted to get to know me and A better. My Uncle R wanted us there too and I love him, he's my favorite.
Oh and a little more history, I grew up in California, they lived here in Utah, we saw them once a year and usually it was just my Grandma, so no one really knows my family at all, we're not exactly close.
Anyway, I knew my Grandma would be there so I got up and got ready and made sure A was ready and we ventured out there, an hour away. My Grandma was there. Everyone was there. I had already decided to be over the top nice to everyone, to make sure people saw I was always smiling and happy. Well I sat down to talk to my Grandma about the Xmas card I had at home for her and the grumpy old lady turned her head the other way and wouldn't even talk to me. Then she left, as in went home, but not before talking crap about me to everyone in the house.
I don't get it. It's ridiculous, how do you apologize for something you didn't do? Especially when that person won't even look at you? How can a Grandma do that? Its not like I know, or well knew she thought that or I would have said something, I would have announced at my baby shower, who she was. I'm not scared to get in front of my family and tell them what for. I just wish I knew what to do.
It hurts not having my Grandma like me. I know she doesn't like me, she's told people. It hurts knowing we can't even be in the same house together, she'll leave. I'm not going to the family Xmas party at her house this year, its too awkward. I can't be around that and Miss A will definitely not be around it. It was hard to decide not to go but, I do not want Miss A to be around people that are going to have such negative feelings.
I just don't know. People need to grow up.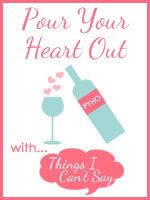 I linked up with the amazing
Shell
at
Things I can't Say
. If you haven't "met" her yet of been apart of her PYHO link up, try it out, you'll love it.