Welcome ICLW -ers!
I hope you take the time to snoop around my blog & learn a bit about me! Decide you want to follow me? Let me know! I'd love to follow you too!
You can check out my "About Us" & "TTC" pages to find out a bit more about me!
For a quick update on my life right now, keep reading!
Miss A is currently 10 months old.
SJ is looking for a new job, closer to home.
I sell hair bows, & I'm currently working on something for us grown ups!
I tend to link up a few times during the week.
Monday
Tuesday
Wednesday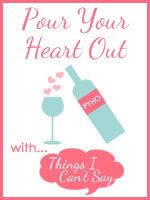 Friday