Friends, I'm so happy to tell you that I'm having The Preppy Girl in Pink on my blog today! She's amazing if you haven't met her yet. Now be ready, this post is LONG, but so WORTH the read. There have been several times that I've tried to narrow it down, but I LOVE it, ALL of it.
Who are you, what do you blog about, any hobbies/interests you want to share? What are 10 of your favorite things?
I am an almost 40 year old (hmmm...that hurt a bit more writing that than I thought it would) who was given the priveledge to stay at home with my girls when I came to a crossroad in my career. I could either spend less time with my family or more. Thankfully, my husband wanted me home more! So, I put in my resignation and two weeks later on my very first day off from work, I was a chaperone on one of daughter's field trips with school. I haven't looked back once. I have looked at my shrinking bank account but not at my decision to put my family in first place again.
On my blog, I tend to write about whatever pops into my head, heart or my life. I'm not always the best at putting my words together but I write my blog as I would talk to my closest friends or family. You will find the real me on my blog.
As for my hobbies/interests, I guess you could say that I love spending time with family and/or friends above anything else. I love to people in good company and laugh a lot. I am the person who everyone knows will at some point "snort" from laughing so hard. I am also a very good friend. I have your back, front, middle...you name it, I'll take care of it.
1
0 of my favorite material things..
.
1. Coke Zero - You will rarely see me without one of these in my hand, bag or cup holder.
2. Ice Cream - I usually have a bowl every night.
3. My smart phone - Do I really need to elaborate on this?! No, I didn't think so.
4. Sneakers - Some girls love high heels but I am a sneaker junkie! I have pairs to go with most colors in the rainbow and even some colors that aren't in the rainbow ;-)
5. Braids - I love braids in my hair and my girls' hair too. They are just so feminine.
6. Vera Bradley - I have a slight obsession with her bags. My husband may say I need an intervention but really, he's a guy. He just doesn't get it ;-)
7.
My new Canon - I'm still learning how to use it but when I opened it up on Christmas morning my husband told me he bought it for me because besides for capturing the girls he knew I would love it for my blog. Swoon!! He's such a good man!
8. Porsche 911 - I will never own one but I love the look of them...even when they are parked but to watch one take off down the road/track, it makes my heart beat very quickly! Stunning cars!!
9. Hair bows on my girls - As soon as they had hair that was long enough, they had bows in their hair. Hey! I even bought some bows from you!! (this is where you shamelessly plug your beautiful hair bows!)
10. My blog - It is something that is all mine. I can decorate it how I want (once I learn how). I can write about whatever I want to. I can reach out to people. I can meet people. I can make people laugh. What's not to love?!
Why do you blog? What made you decide to blog? I know your husband gave you a push, but why blogging? (I read up on this but I figured you could tell everyone else)
I stumbled upon my first blog after resigning from work in April. I didn't even know what a blog was before then. I didn't have time to surf the web for anything fun and truly when I was done with work the last thing I wanted to do was go on a computer. I was looking for a cake pop recipe and I chose the one with the prettiest description beside it when my Google search gave me a long list. I started to read it and really enjoyed it...so much so that after hearing about it a thousand times my husband one day told me to stop just reading them and start one of my own. He told me to sit down, take some time on the computer and get it going. I did and now here I am. I've been blogging since late August of 2011 and I love it!! I'm still a newbie and have lots to learn but there is so much support out there if you want/need it.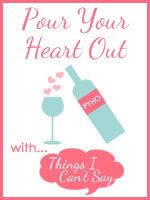 Favorite link-up?
My favorite link up is definitely Pour Your Heart Out with Shell at Things I Can't Say. This is where I have found most of my favorite blogs and made a lot of friends. I also have received wonderful support from anyone who has commented on those posts. I would recommend this link up to everyone and anyone.
Tell us about your family!
My husband, Chris, and I have been together for almost 15 years and we will be married for 11 years in just a few weeks. We have two girlies that are 9 and 7 years old. Their nicknames are Ash & Bean.
What do you guys like to do together?
Wow! That's a hard one...the list would be forever long. I'll try to pick a few. We love to play in the water together (warm water...I can't stand cold water) either swimming, boogie boarding or jumping waves. We love to hike as a family. The girls have been hiking with us since they were little so they have a lot of endurance and can keep up with us on some serious mountain hiking. We also love to kayak. Sometimes we have to tow a girl or two if their arms get tired in their own kayaks but they are pretty good at it now that they are older. I guess you could say we are an "outdoorsy" family.
Jamaica is our 13 year old Hungarian Puli. She is our first born. The girls even call her their big sister. She has the best personality and she is just all around fun. Yes, those are dreadlocks. It is a natural cording that happens as their coat transitions from puppy to adult. It is a lot of work to keep from matting together and from collecting everything and anything in the yard that the cords pick up as they sweep across the ground or she rolls on something stinky...but she is worth it!
We have so many of these. I'm sure if you asked each one of us we would have a different answer. My favorite movie is The Goonies. I would have to go with that because I love watching it with Chris and the girls. I love that my husband laughs because I am laughing and I love that my girls are now throwing out quotes from it right along with me.
Parenting tips?
Hmmm...Yes, please. I'll take some! Seriously though, I think the best tip I can offer is to have patience. As parents we don't want to see our kids grow up so quickly but at the same time we expect an awful lot out of them at such young ages. We get annoyed very quickly when they can't keep it together. I think you need to ask yourself...Did they get a good night's sleep? Did I drag them all over God's creation and not allow them any free time? Are they not feeling well and don't realize it yet? Was I able to do that at that age?. When I can tell my patience is wearing thin I always walk up to each of my girls (or whichever one is in the room), kiss them on the top of their heads and take a deep breath in of their wonderful smelling hair. It helps calm me and it reminds them that even though they are annoying me to no end that I love them.
Beauty tips?
You would crack up if you saw my drawers in the master bathroom. They hardly have anything in them but hair elastics and headbands. I honestly did not start wearing anything more than mascara and lip gloss until about 2 years when I decided I needed to look a bit more professional at work. Now, I have a few eye powder pencils and eye liner pencils from Sephora. They are the easiest way to brighten up your eyes in about 20 seconds flat! I wear lipstick now too. I love the stay all day kind by Revlon...mostly because I don't want to re-apply several times a day. I don't wear concealer or anything like that. I'm sure someone would recommend that I do but I don't like the way it makes my face feel. I want to feel my face if I touch it, not make up. I guess my beauty tip would be...Be Yourself!