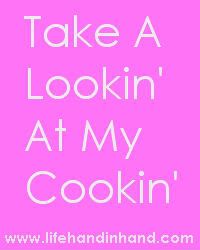 This is her new blog recipe link-up! Though I haven't made this yet & gotten a picture its one of my go to recipes when I'm unsure what to make!
Apricot Chicken.
4 Boneless Skinless Chicken Breast (Just whatever you need to make for your family works too!)
1/2 Jar Apricot Preserves.
1 packet Onion Soup Mix
Catalina or French Dressing
Preheat oven to 350 degrees. I like to cut the chicken into chunks, I think it makes the flavor better, covering every bite in the sauce is delicious! Anyway, throw the chicken into a baking pan, 9 x 13 works or 8 x 8. Then in a separate bowl mix the Apricot Preserves (Jam), Onion Soup Mix & Dressing together, I don't think I quite use half of the container of dressing, I just add till it seems like a good saucy consistency, & also till I think it smells right, don't want too much onion smell, or too much dressing, want to make sure I can smell a bit of everything!
*If you're making more than just 4 chicken breasts, then make more sauce, just do what feels right to you!*
Anyway, cook it for about 45 minutes or until the chicken is cooked, serve over rice! If you're like me and like a little sauce on your rice then I'm happy to tell you that you'll have left over sauce in the pan! Enjoy!
I love to bake more than I love to cook, so if this link up lasts I will definitely be sharing some of my favorite desserts!!
Thanks Shelley for this great link-up!!