[Day 10]:
What is your most embarrassing moment?
I really wish I could think of something, there are a lot of little things that are awkward that come to mind but I can't think of something huge, I try & avoid things like that, ha!
~It could be the time I fell asleep next to a guy I was seeing after eating something that apparently my stomach was like "umm woah!" & I woke up because I did something soooooo not lady like.
~It could be the time I nearly drown in another boyfriend's pool because he didn't tell me it was shallow only on the sides (I can't swim!), so I had a very hard time getting back up to where I could breathe.
~It could be the time I was very pregnant & sneezed & peed my pants, in Wal-Mart.
~It could be the year that I would leave my church class early because they would ring a bell right next to the wall & every time it would make me jump, couldn't help it. (I had also just moved to this state so I was already strange to the people there.)
~It could be the time I met a boyfriend's friends & he went crazy & left me at Denny's with them, people I didn't know & I had to beg for a ride home.
~It could be the time a guy I dated claimed not to know me when he was with his friends.
(Seems like I dated a lot of trash huh?)
Oh this list could go on and on I'm sure.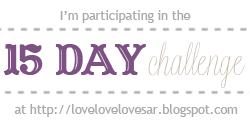 Oh & PS there's a giveaway going on here! She's got some super cute stuff picked out!