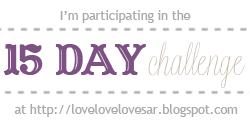 [Day 8]:
Describe the good, the bad, and the ugly about yourself.
The Good:
~I'll give anyone a chance & sometimes even a second chance.
~I'm honest, I don't need to go making up lies to make myself feel better.
~You can trust me.
The Bad:
~I've said it before & I'll say it again, I've got a dirty mouth. (Though it won't show up on this blog)
~I'm shy. Not as bad as I used to be, but it's still pretty bad. Like sometimes it's hard for me to even say anything to anyone. Awful.
The Ugly:
~You screw me over once & we're done. I won't trust you again, the husband's sister knows that all too well,

lying something or another.
~I
don't forgive & forget
very easy, which could be the reason we're done after you mess up once.
& Just to be clear, it has to be pretty bad for me not to forgive you.