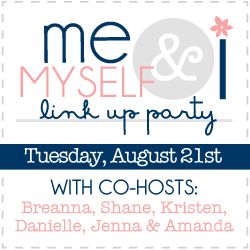 1) What would you attempt to do if you knew you could not fail?
I would attempt anything! I'd definitely get out there more, take more chances. I'm pretty shy & I always second guess myself, and figure it won't work so most of the time I back out of my ideas. Knowing that I couldn't fail would be amazing.
2) If you had only six months left to live, what would you do with the time?
I'd honestly spend my time with my family. My husband, my daughter, my parents, siblings & their kids. We could honestly just sit around watching shows together, but I'd make sure we were all at the table for dinner each night, that has got to be one of my favorite things about my family, Family dinners. They are always wonderful & exciting.
3) If a front page news article was written on you, what would the headline be?
Woman loses her mind an attacks in-laws.
4) What is your biggest pet peeve?
Liars, I won't even start on an explanation it'd be too long ha.
5) What is your favorite chick flick movie?
Make sure to stop by tomorrow & link up for the Return The Favor Blog Hop!
This week is all about Facebook!