If you're new to my blog here are some About Me Posts for you to check out,

Me, Myself & I
Blogger 411
Versatile Blogger
also make sure to say hi!
I have a pretty busy day of cleaning & then a couple hours at church later, so I figured I'd do a weekend wrap up type post & link up with Destiny the
Rockin' Mama
(also my newest button swap!)
for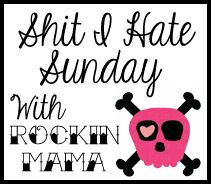 - Appliances that die when you don't have the money to buy new ones.
- Car batteries that decide it would be the perfect time to die right as your fridge does.
-Everyone in my family being sick at the same time.
-Neighbors coming over at 9 pm to see if we want veggies.
-Pretty painted nails getting messed up while cleaning the house.
So as you can tell, my weekend has been a pain! We did have a movie night last night & watched The Hunger Games, it was pretty good. I loved the books.We also somehow got 10 hours of sleep last night, it was amazing & much needed.
I'm ready for this week. It will not be crappy like last week, well minus my anniversary this past Thursday, that was pretty awesome.
nt-family: Arial, Helvetica, sans-serif;">Also, right now the first person to purchase
The Preschooler
(in post)
ad spot on my blog can use Promo code: "
CAR
" will get 25% off.
Also the first 2 people to use Promo code: " Fridge " will get 25% off any other ad spot.