Disclosure: I got this product as part of an advertorial.
If you've been reading here lately you will know that we've been trying out a more clean eating type approach to our meals. If you know anything about clean eating you know that means LOTS of fresh fruits and veggies. I spend most of my time chopping up things.
Let's take a moment to admire my chalk board table background.
First off, these bamboo cutting boards are beautiful! Absolutely love the way they look. Second, when I was cutting some bigger/harder items, (squash, corn on the cob) the board did not run away from me.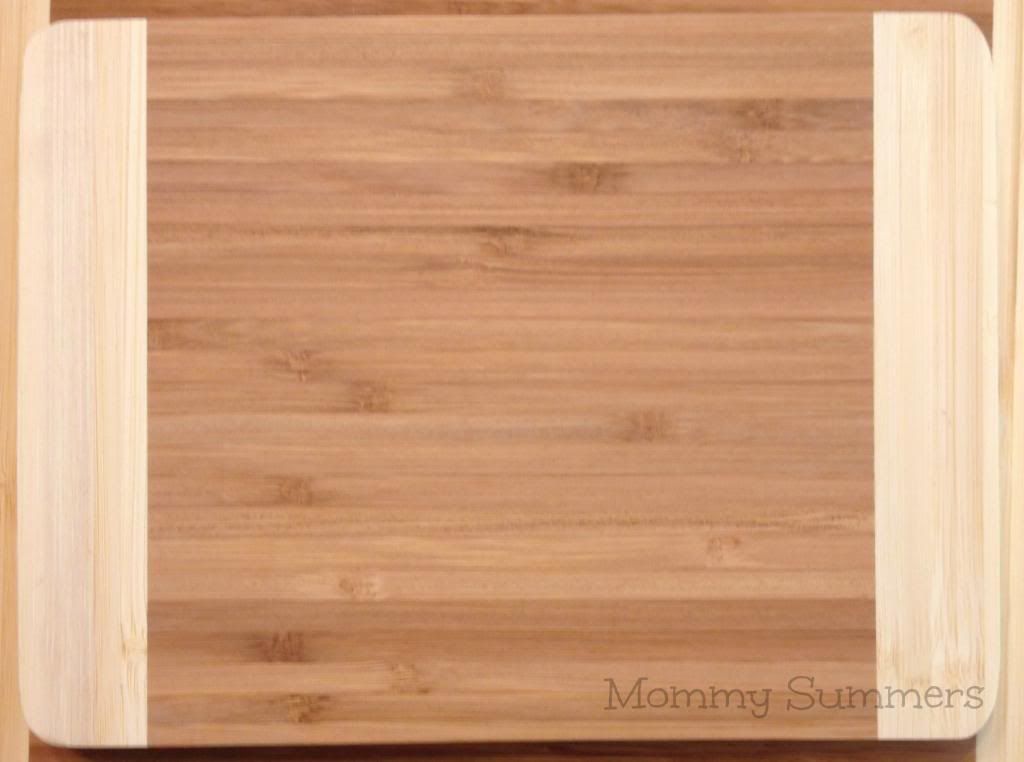 Close up of the smallest cutting board.
When it came time to wash them down, I was worried about the way they would look afterwards. Well after use 1 it still looked great. Day 2 I used the same large board to peel and make zucchini noodles and after I washed it I noticed it was starting to umm... I want to say peel.
Just pointing to a few of the peeling areas.
It isn't splintering off, but the some pieces are starting to pull up. Now I've been looking around on forums and through reviews to see what people have to say about the boards doing this, if its the way I washed it (with a scrub brush in the sink) or if this happens during the first couple washes. I haven't really found much so far, though some have mentioned they splintered after their first wash. Have you guys had any experience with this?
Moving on, after I saw that with the large cutting board I decided I'd better give the medium and smaller board a go and see what happens. Well only 2 small peels in the medium board after a use & wash and none in the small board.
On another note, they mention that these boards have "
Anti-Bacterial Properties"
and while it sounds great to me, I just can't bring myself to cut raw meat on them. There's something about not being able to throw them in the dishwasher that makes me uncomfortable with that idea.
So just to sum it up for those of you looking for a quick review:
Pros:
Beautiful to look at.
Great varying sizes.
Doesn't slip while cutting.
Easy to clean.
Light weight.
Cons:
Peeling(?)
My fear of using meat on it.

(Of course only a personal negative.)
So would I recommend these to you? To tell you the truth, I just don't know if I would recommend these or not. I feel like the smaller & medium ones wore better but they aren't the ideal size for anything more than just a smaller cut. Maybe another larger board will be better than the current one I have. Maybe I'm doing something wrong with it, though I feel like the instructions were pretty easy, just use, hand wash and occasionally treat with mineral oil. So again if you have any tips on what I'm doing wrong, or how I can fix this please let me know!
I received one or more of the products mentioned above for free using Tomoson.com. Regardless, I only recommend products or services I use personally and believe will be good for my readers.