Though my #'s may be small, they are growing quickly! I want to grow my blog & make many new friendships! I want to help you grow your blog too!
Have something you want me to review?
Want to host a giveaway on my blog?
Want me to write a sponsored post?
Just let me know!
GFC followers: 207
Facebook fans: 76
Twitter followers: 171
Instagram followers: 61
Bloglovin followers: 6
Pinterest followers: 24
Feedburner subscriptions: 172
Hellocotton: 9


Number of Pageviews in the last 30 days:
3,339
Averaging about 111 pageviews a day.
Number of Pageviews All Time:
167,462
{I've only recently added buttons for Facebook, Instagram, Bloglovin, Pinterest & & Hellocotton onto my blog}
100X100
<a href="http://mommysummers.com/" target="_blank"><img src="http://i1104.photobucket.com/albums/h328/mommysummers/100100.jpg" alt="Mommy Summers" width="125" height="125" /></a>
125x125

<a href="http://mommysummers.com/" target="_blank"><img src="http://i1104.photobucket.com/albums/h328/mommysummers/blogbutton-1.jpg" alt="Mommy Summers" width="125" height="125" /></a>
200 X 215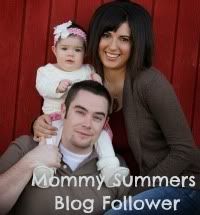 <a href="http://mommysummers.com/" target="_blank"><img src="http://i1104.photobucket.com/albums/h328/mommysummers/200215button.jpg" alt="Mommy Summers" width="125" height="125" /></a>