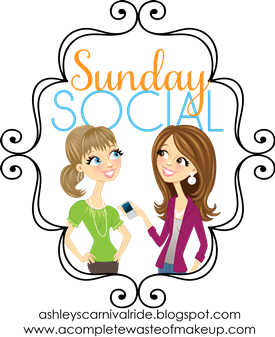 This Weeks Questions: Never Have I ever themed
1. What is one movie you are terrified to watch?
Honestly, I don't watch scary movies, so I'd probably say, all of them. Ha! I'm sure the Mr. would greatly appreciate it if I would just stop being a baby & watch some scary shows with him!
2. What is one TV show you have always wanted to get into but haven't yet? Well we just recently started getting into HIMY, love it! Can't believe that we never watched it before!
3. What is one daring activity on your bucket list? Hmmm.... me do something daring or think about doing something daring... uhh, let me get back to you on that!
4. Would you ever travel alone? No, that'd drive me crazy! And now I can't I've got Miss A & then Miss M will be here in July! Also, I'm terrified to travel somewhere very far, or somewhere I haven't been before alone. Makes me so nervous!!
5. What activities do you like to do alone? Take a bubble bath, seriously it's been at least 2 years since I've had one alone, A always comes crying to me that she wants to play too. Work out, I don't like other people watching me at all. Not even my husband. Blog. I get a lot more done and it's done a lot faster if I have time to blog alone.