Linking up with Shelley today!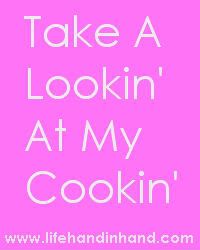 I made my own brown sugar. See it all started when I wanted to make cookies with A, but we didn't have any brown sugar, so I got out my cookbook and looked up a substitute.
1 cup granulated sugar
1 1/2 TBS molasses
Simple enough right?
Right. All you do is mix the two together.
And you get this. Friends, it even tasted pretty darn good!
And I used it to make cookies!
They tasted great too! Couldn't even tell a difference.
My future SIL noticed that when I bake chocolate chip cookies they're always so huge! Like puffy, they don't flatten out like the store bought rolls do. Well when I make cookies, I leave out the granulated sugar. Just add in the brown sugar that it calls for. They are puffy and a little less sweet. Makes me eating about 4 of them right after they cool off, a little better diet wise, ha!
Thanks Shelley for the great link-up!